Néobulle
Néobulle Babywearing Cover 3-in-1 version 2
Coverage of portage 3-in-1 Néobulle version 2
The coverage of portage universal Néobulle is fleece and softshell. It lets you wear your child while protecting it from the cold and bad weather.
The fleece is warm your little worn and the softshell to keep it in the sec.
The coverage of portage is easy to use. She scratche on the shoulder straps of the baby carrier.
It is suitable for the portage ventral and dorsal. More long, the version 2 covers more of the legs of your child.
It is universal, it is used with all infant carriers.
The coverage of portage has fur "comforter" all sweet on the sides of the interior.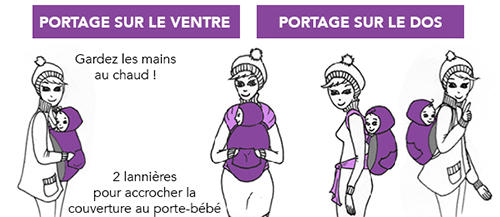 Coverage of portage universal Néobulle : 2 positions porting
Coverage of portage Néobulle multi-purpose
The coverage of portage Néobulle 3 in 1 is multi-functional. It can be used for :
the portage
in the stroller as cover
with the car seat as a cover also.
The coverage of portage agrees to a preformed, with a scarf of portage, a meï-teï or even a sling.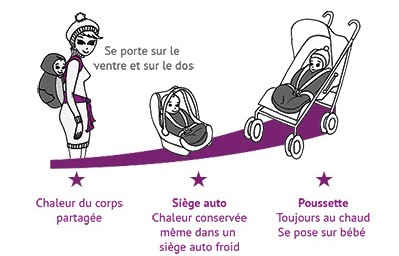 Usage tips
The coverage of portage Néobulle is universal, and fits all infant carriers and also to all strollers and car seats. To use the cover, attach it to the shoulders of the carrier using the hook and loop fasteners.
It is used from birth to approximately 3 years.
The blanket has a hood to cover the baby's head.
You can slip your hands inside the blanket to warm them up. A small pocket kagourou is there. It is lined with fur "comforter". Your hands are nice and warm.
A small reflective strip is affixed to the stitching to be seen from far away.
Baby is worn comfortably and warm. The cover comes to cover his feet with cords. You can tighten the link to keep warm the little feet of the baby.
The coverage of portage Néobulle has a slot in the bottom to allow the attachment of the car seat.
ATTENTION : the coverage of portage does not replace a baby carrier.
Coverage of portage Néobulle made in France
The coverage of portage Néobulle is manufactured in France. It is in softshell, breathable and waterproof. It is lined in fleece to ensure baby a portage to the hot. Fur very soft that is called "fabric blankie" is on the cover inside.
The quality Néobulle
Néobulle is a French brand. It manufactures its products in France in an ethical and respectful manner.
The coverage of portage is designed and produced in France.
Characteristics
Carrying positions

- Front & Back

Kind of Baby Carriers

- Sling

Warranty

- 2 years

Material

- 100% organic cotton

weight

- 225g/m2

Sécurité

- European and German standards
Avis des clients (20 Avis)
La couverture est très pratique. Bien que réglable elle reste très grande pour un nourrisson de moins de 3 mois
Pas très épaisse,je suis un peu déçut
Bonjour est ce compatible avec un sling ?
Bonjour,
Merci pour votre question. 
Il est possible d'utiliser la couverture de portage Néobulle avec un sling. Voici les conseils de la marque pour l'installation :
"Pour installer notre couverture de portage sur un sling, attachez un côté sur la boucle et coincez l'autre côté (une fois le scratch replié) dans le tissu de votre Sling. C'est un peu système D mais nous n'avons pas de meilleure option." 
Belle journée à vous.