View larger
More than
Flash sale
Reduced price!
Stick emergency Badaboum organic Neobulle
Néobulle
URB-SBA-9
Stick Badaboum against the blows and bruises
The stick Badaboum Néobulle be used after the fall.
The essential oils, the everlasting and arnica, that are contained in your stick emergency Badaboum of Néobulle are particularly effective from the first application. It prevents the appearance of the hematoma.
From 3 months.
100% organic.
Capacity : roll on 9 ml.
No reward points for this product.
Your order delivered within 2 to 4 days
Stick emergency Badaboum Néobulle
The stick Badaboum Néobulle is ultra-convenient and effective against bruises and bumps. Its small size fits in your purse, in the first-aid kit. The little stunt in the grass and love to use them!
The blue and bruising are decreased with the stick Badaboum. The pain is soothed.
The stick is applied gently on the area to be treated. Renewed 3 to 5 times per day. Do not use in case of a wound.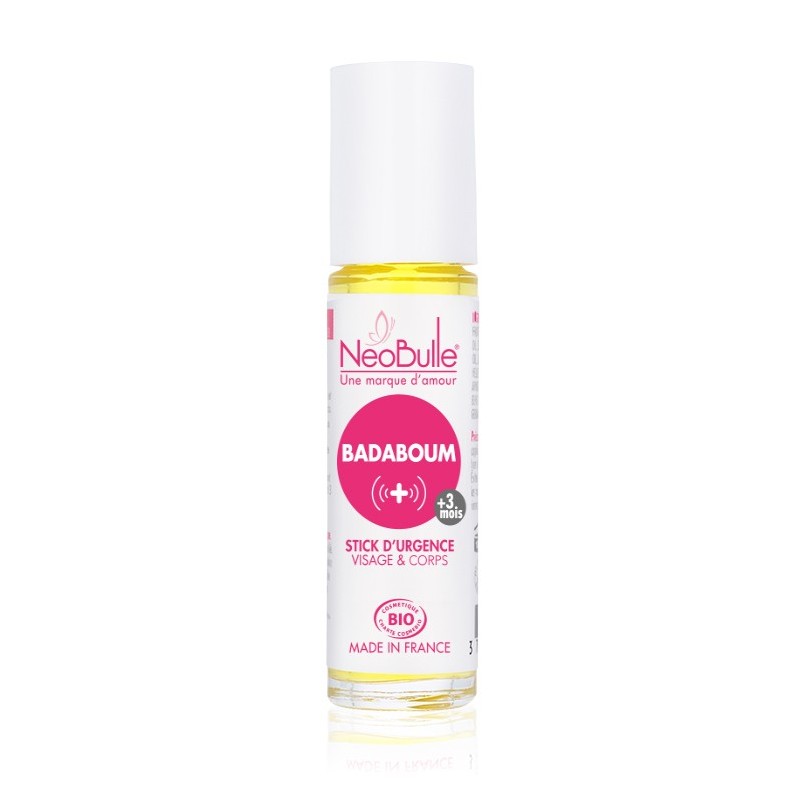 Néobulle : natural products certified organic
Néobulle has the certification "qualité France" for its products. They are certified organic. Their composition is dosed at the right. Packaged in small quantities, they will keep 6 months after opening.
Composition of the stick Badaboum of Néobulle
The stick emergency Badaboum has a comostition natural and healthy :
Vegetable oils : maceration of arnica, olive, sunflower.
Essential oils: lavender, cypress, everlasting Italian.
Natural allergen : linalool, geraniol, limonene, coumarin.
100% organic.
Néobulle : organic products, quality
The care products Néobulle are without artifice. Natural ingredients are selected with care.
They do not contain any colorants or preservatives, or additives.
Néobulle does not test its products on animals.
Data sheet
Made in
France
Label
Cosmebio
Product Reviews
Number of Reviews :

7

Average Grade : 4.3 /5
William M.
the 07/05/2020

5/5
Ras conforme a la description.
Margot D.
the 19/04/2020

5/5
Un stock pour soigner qui fait même "plaisir" aux enfants
Anne J.
the 31/01/2020

3/5
Pas encore utilisé
Rodolphe R.
the 15/11/2019

3/5
Non utilisé encore
Nelly A.
the 04/09/2019

4/5
Pas encore testé mais conforme
Sabrina G.
the 14/08/2019

5/5
Un classique à la maison depuis 5ans. Pas de bleu ou basse grâce à lui.
Stefanie J.
the 29/09/2018

5/5
Pas encore eu l'occasion de tester ce produit mais généralement cette marque ne déçoit pas!
More reviews...