Néobulle
Néobulle Neo V2 Ink Lola Series Limited Naturioù - Door-baby

Néobulle Neo V2 Ink Lola Series Limited Naturiou
Néobulle has created Neo, the preformed ideal to carry the new-born babies 0 to 2 years. Physiological, comfortable, and friendly, opt for the Neo and wear your baby safely.
The V2 version of the Neo Néobulle brings even more comfort and soft when porting. The shoulder straps have further padded foam for a port, nice and easy.
Néobulle and Naturiou combine to offer the Neo V2 Ink Lola in a Limited Series. Created especially for Naturiou, you will find this coloring only on our site !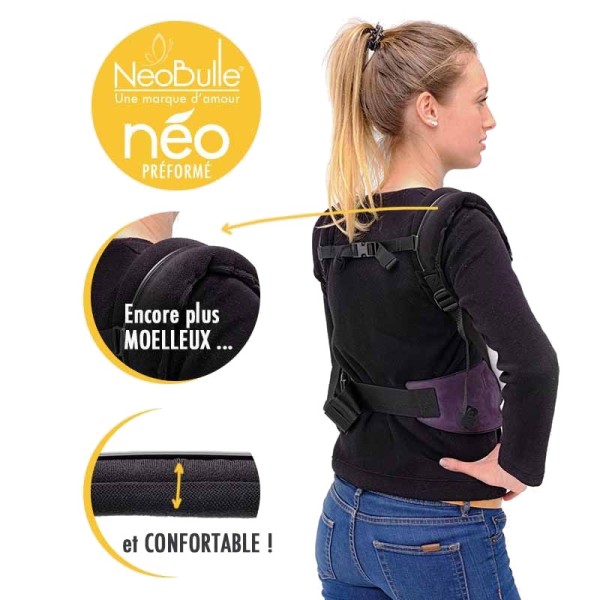 Differences between V1 and V2 Neo Néobulle
Néobulle is a brand engaged and responsive. It appporte improvements quickly on its preformed for even more comfort and quality.
Version 2 of the Neo has adjustments namely :
The shoulder straps
Néobulle enhances the shoulder straps of the Neo V2 to make them thicker and more fluffy. The portage is comfortable.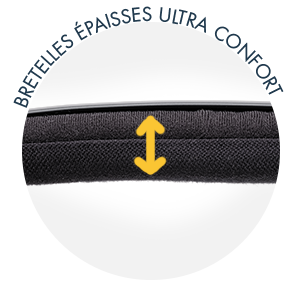 The hood
The hood unfolds in sun visor to protect your child's head from uv.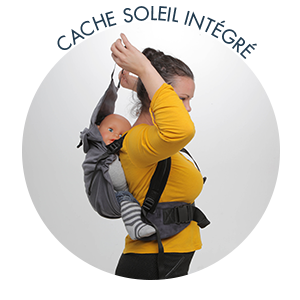 Neo : preformed and flexible physiological for toddlers
Choose a baby carrier suitable for newborns to wear under optimal conditions. Neo V2 Néobulle, it is the quality to the French with a baby carrier 100% organic cotton certified GOTS to be worn with confidence. The fabric of the wrap provides flexibility and support smooth.
Opt for a preformed adjustable and adjustable to begin the portage from birth. The seat of the Néobulle Neo adjusts and adjusts to the millimetre thanks to its system of hook and loop fasteners to the inside of the waistband. You change to convenience the width of the carrier to move easily from 18 to 45 cm. Thus, your little one settles in a physiological manner and the gap of the hip is respected.
As for the apron, that is to say, the front of the carrier, it adjusts from 25 to 43 cm.
Easily wear with the Neo
Choose a baby carrier suitable for an infant for the portage. The Neo is designed for babies from 3.5 to 15 kg, with a range of 0 to 2 years of age. Its adjustable seat adapts to all morphologies baby !
And still its undeniable advantages :
No need of booster cushion
Maneuverability : 2 lashing straps for the waistband and straps, and that's all !
Scalability is remarkable thanks to its adjustable seating
Great lightness : the Neo weighs 480 g
The belt of the Neo wants to be thin and flexible. It only compresses not the belly while remaining perfectly in place. Thus, the mother does not feel embarrassed at the level of the abdomen when porting
Zoom in on your Néobulle Neo V2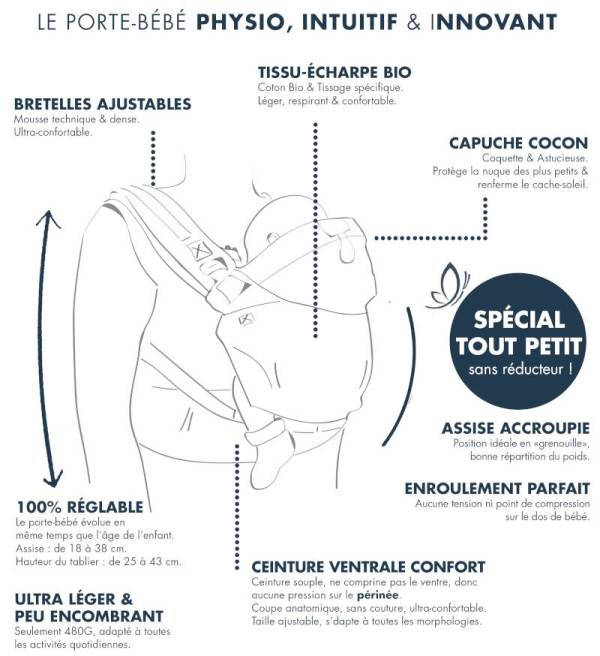 How to install your Neo Néobulle
Néobulle the mark of Love French
The Néobulle Neo is manufactured in France, which allows to follow all stages of its design. You are buying a product ethical and respectful. Choose Néobulle it's support fair trade French.
Washing your Neo
Wash in washing machine at 30°, delicate cycle.
Not tumble dry.
Do not wash too much of your carrier in order to preserve it for a long time.
Characteristics
Carrying positions

- Front & Back

Kind of Baby Carriers

- Full Buckle

Label

- Gots

Hauteur du tablier

- De 25 à 45 cm

Largeur d'assise

- De 18 à 45 cm

Main advantage

- Préformé ajustable en tissu d'écharpe bio

Warranty

- 2 years

Weight

- 420 g

Material

- 100% coton bio GOTS

Faut-il un nœud?

- Non
Avis des clients (1 Avis)
Anonymous A.
- 23/07/2019
Pas encore testé, ma fille ne naîtra qu'en novembre!
Be the first to ask a question about this product!