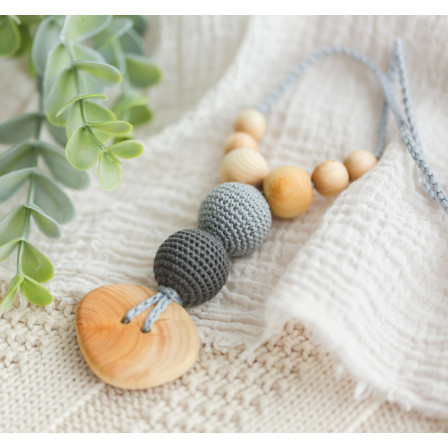 View larger
Necklace babywearing and breastfeeding Kangaroocare Cool Air Anthracite Button Limited Series Naturiou
KANGAROOCARE
Kgrc cool air anthracite bouton
Necklace hand made with untreated wood and cotton
Kanagaroocare has created for Naturiou of necklaces of portage and breastfeeding bio with your baby carrier.
Check out this lovely necklace in the colors of your Ergobaby Cool Air Anthracite.
Your necklace babywearing and breastfeeding is cotton and made of untreated wood. He respects you and your baby.
One size fits all.
Colors : charcoal, grey and natural.
Model : Kangaroocare Cool Air Anthracite Button Limited Edition Naturiou.
No reward points for this product.
Your order delivered within 2 to 4 days
Composition of your necklace
Created by Kangaroocare exclusively for Naturiou, the range of necklaces from portage and breastfeeding is cotton and made of untreated wood. As well, your baby will be able to put it to his mouth without any risk.
The pearls of your necklace babywearing and breastfeeding are juniper guarantees without varnish or paint. They are completed by a finish with beeswax.
The wood of red cedar is selected for its strength and quality. It is stored and dried those long months. This method ensures its propriètés. It brings a soft and delicate scent to the collar.
A necklace of portage is that used for what?
A padded babywearing and breastfeeding is used to :
beautify your neck by adorning an accessory original and ecological
stimulate your baby
in order to attract his attention
distract him during feedings or walks
to ensure that it does not pull on your necklaces common or that it will not claw.
A new concept : your matching necklace with your baby carrier
Your necklace babywearing and breastfeeding Kangaroocare Cool Air Anthracite Button is 100% handmade. He wears the colors of your baby carrier Ergobaby Cool Air Anthracite.
An accessory eco and ethical
The padded babywearing and breastfeeding becomes a fashion accessory "must" if you are wearing or if you are breast-feeding. But it is also suitable for all other women who want a piece of unique jewelry and ethics.
When knotting your necklace, your baby is captivated by the pretty, colorful beads.
Your necklace is comfortable to wear. It is 100% natural and will be your ally during your time privileged breastfeeding.
Your necklace babywearing and breastfeeding can be chewed, nibbled away without any worries. Your baby will look and the touches with attention.
Beautiful moments of tenderness and sweetness are waiting for you!
An essential accessory for babywearing or breastfeeding. To offer or to make offer!
Data sheet
Made in
Estonia
Material
Juniper
Minimum age
birth
Main advantage
Bois issu de l'agriculture biologique
Sort
Button Necklaces
Size
One size
Product Reviews
Number of Reviews :

8

Average Grade : 4.8 /5
Agnès G.
the 05/11/2020

4/5
Conforme à son descriptif sur le site, je regrette simplement qu'il ne soit pas un peu plus fin.
Stephanie R.
the 13/08/2020

5/5
Pas encore essayé mais de doux coloris et demble résistant
Nelly A.
the 04/09/2019

5/5
Conforme
Anonymous A.
the 14/09/2018

4/5
Joli collier, visiblement de bonne qualité. Bébé (2 mois) ne peut pas encore l'attraper vraiment mais l'a agrippé déjà plusieurs fois au lieu de mon t-shirt en cours de tétée. J'espère m'éviter avec ce collier les griffures que mon premier bébé m'occasionnait parfois en porte-bébé et en écharpe.
Anonymous A.
the 19/07/2018

5/5
Très joli. Juste une odeur de bois un peu prononcée. Mais ce ne pas désagréable
Anonymous A.
the 15/07/2018

5/5
Bb l'a tout de suite essayé dès que je l'ai installé dans l'écharpe de portage. Il joue avec et le machouille, çà occupe ses petites mains aussi pendant la tétée. Et puis il est très joli. Je l'ai choisi en fonction de la couleur de mon écharpe :)
Anonymous A.
the 04/04/2018

5/5
Très bon produit, correspond à ce qui est commandé !
Anonymous A.
the 10/06/2017

5/5
Superbe!
More reviews...