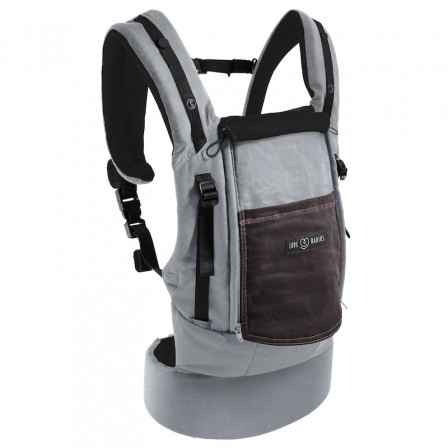 View larger
French Days
Étiquette "Love Radius"
Reduced price!
JPMBB PhysioCarrier Cotton Elephant pocket Dark coffee
Je Porte Mon Bébé
CO434336
Walk your baby in the PhysioCarrier Elephant pocket Black Coffee.
The carrier physiological JPMBB is easy to use, physiologically, and ideal for long walks.
JPMBB offers you a baby carrier ergonomic. It adapts perfectly to your morphology and to your child.
3 positions port : ventral, dorsal, hips for a port of the booster.
Model : JPMBB Physiocarrier Cotton Elephant pocket Black Coffee.
By buying this product you can collect up to 5 loyalty points. Your cart will total 5 points that can be converted into a voucher of 2,25 €.
Your order delivered within 2 to 4 days
Zoom on your door-baby physiological Physiocarrier of JPMBB
The PhysioCarrier JPMBB cotton Elephant pocket Black Coffee carries babies from newborn (3.2 kg) up until its about 4 years old (20 kg). JPMBB is inspired by the design of thescarf " the Original " to create its preformed PhysioCarrier. Indeed, as " the Original ", the PhysioCarrier has two colours. The pocket of the apron is coloured in black coffee (dark brown) and the rest of the carrier is color elephant (light grey).
These understated colours complement all types of clothing and are a perfect match for your girl or boy.
Your PhysioCarrier Elephant pocket coffee black is suitable for all seasons
The deck of the PhysioCarrier opens to let in the air. During your summer holidays, this feature will be very helpful. The opening allows the aeration and ventilation of the back of your child. The net slide from the apron also allows the carrier to properly reposition the baby if necessary.
A hood mesh supports the baby's head. It frees the respiratory tract.
The PhysioCarrier JPMBB image
Below is a photo of the PhysioCarrier of JPMBB. There is listed its dimensions. You can also find all the accessories preformed.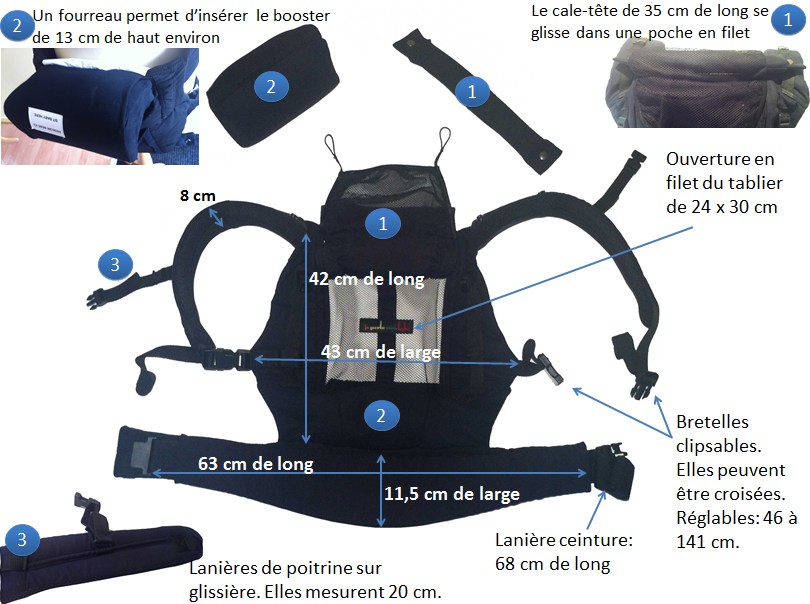 Sleep is assured in the PhysioCarrier JPMBB
Two accessories in supplements are essential to maximise the comfort of your child. They allow you to wear from birth. They are sold separately.
The booster of JPMBB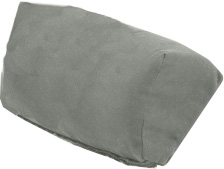 The booster is required to bring the new-born in the preformed. It offers a secure portage and height. The booster seat provides a physiological position of your baby. The portage on the height clears his airway.
The booster is essential to the infant, but also very beneficial for the larger ones. In fact, when porting in the back, the elevation widens his field of vision. Your child will appreciate this advantage.
The advantages of the holder are :
- A portage insured. JPMBB guarantees a portage physiological and safe.
- A good weight distribution. The weight of your child is shared between your shoulders and your hips.
- A sensation of backpack. In fact, the booster seat height adjustment the centre of gravity.
The wedge-head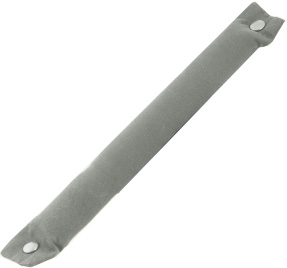 The shim header is used only with infants. It supports his head and his neck and offers him a way of maintaining soft and padded.
Thanks to its two accessories to complete your PhysioCarrier, you are ready for beautiful walks !
The carrier JPMBB adapts to the morphology of the baby and the wearer
Your PhysioCarrier JPMBB cotton Elephant pocket Black Coffee has many points of adjustments, including a very convenient. Those are the side straps !
They adjust simultaneously the apron in height and width. Thus, the preformed envelope and perfectly protects your baby. For children over the age of ten months, the side straps facilitate the bending of the knees of the toddler.
For the carrier, the baby carrier ergonomic adjusts in three places :
- Has the belt. A large strap 68 cm long is used to adjust the PhysioCarrier to your size.
- The shoulder straps. They're expanding from 46 to 141 cm.
- The straps to the chest. They slip on zipper and measures 20 cm.
JPMBB ensures optimum comfort thanks to its generous padding on the shoulder straps and the waist belt.
Data sheet
Kind of Baby Carriers
Full Buckle
Made in
Turkey
Recommended baby age
4 - 48 months
Minimum age
birth
Baby's weight
5 à 20 kg (dès 3,5 kg avec le coussin)
Carrying positions
Front, Back & Hip
Shoulder straps measurement
46 - 141 cm
Waistbelt measures
63 - 131 cm
Hauteur du tablier
42 cm
Largeur d'assise
43 cm
Main advantage
Good value for money
Warranty
2 years
Product Reviews
Number of Reviews :

40

Average Grade : 4.7 /5
Pauline C.
the 03/06/2020

5/5
Vraiment un super porte bébé.
Laura F.
the 15/05/2020

5/5
Très bien conforme à mes attentes
Philippe C.
the 07/05/2020

5/5
Parfaitement ce qu'il me fallait
Isabelle D.
the 23/01/2020

5/5
Je l ai eu à prêter et il m a plu ainsi qu à mon fils de 14 mois. Très pratique Très facile d installation Je le recommande
Pascaline B.
the 25/11/2019

5/5
déjà acheté pour mon autre fille qui venait d'être maman, il a servi pour ses deux enfants, il est inusable. J'espère que ma seconde fille en sera aussi satisfaite que la première
Elodie L.
the 25/07/2019

5/5
Plein de réglages possibles ce qui en fait un porte bébé très agréable à porter.
Delphine M.
the 25/05/2019

5/5
Matériel au top,explications claires,pratique
Dimitri H.
the 23/05/2019

3/5
Notice pas vraiment explicite car nos premières utilisations ont était très laborieuse surtout lors de la pose de bébé sans assistance. Une formation est limitée nécessaire pour vraiment l exploité complètement
Marie D.
the 19/04/2019

5/5
Conforme aux attentes, bonne finition et pratique.
Noellie A.
the 28/02/2019

5/5
Article juste parfait
Lucie B.
the 22/11/2018

5/5
parfait
Patrice C.
the 03/11/2018

4/5
Bon produit, bien étudié, dommage que le rehausseur et l'appui tête soit vendus à part.
Yannick R.
the 18/08/2018

5/5
D'apparence bien. Beaucoup de possibilité
Lucette M.
the 26/07/2018

5/5
cadeau offert à ma belle-fille donc je ne sais pas encore ce qu'elle en pense.
Virginie M.
the 03/07/2018

5/5
Pas déçue correspond exactement à mes attentes bien décrit
Géraldine P.
the 15/06/2018

5/5
L'aération du dos est géniale! Bébé ne transpire pas et préfère la position ventrale. Le PhysioCarrier est plus pratique pour maman (qui fait 1.55m) que pour papa.
Anonymous A.
the 12/10/2017

5/5
Produit simple d'utilisation, très ergonomique, j'ai hâte de m'en servir quand ma puce sera un peu plus grande
Anonymous A.
the 19/09/2017

5/5
Je trouve le Physiocarrier très beau, pratique, ne fait pas mal au dos ni aux épaules contrairement à d'autre porte-bébé. Il ne prend pas de place, facile à utiliser et à laver. Mon fils de 11 mois aime toujours autant, je recommande !
Anonymous A.
the 12/09/2017

4/5
Bonne qualité.
Anonymous A.
the 12/09/2017

4/5
Porte bebe de qualité, très beau. Utilisation confome à mes attentes.
Anonymous A.
the 17/08/2017

5/5
très solide, très pratique
Anonymous A.
the 03/08/2017

5/5
Très pratique, facile à mettre, facile à transporter et adapté pour moi, mon mari et bien sûr notre bébé
Anonymous A.
the 24/02/2017

4/5
Le bébé est vraiment confortablement installé. Il n'est vraiment pas secoué lorsqu'on marche. niveau maintien du bébé c'est le top. Produit un peu cher mais vaut l'investissement. Bretelles un peu larges
Anonymous A.
the 15/02/2017

5/5
Très maniable et pratique !
Anonymous A.
the 30/01/2017

4/5
bien
Anonymous A.
the 06/12/2016

5/5
Un produit de qualité c.a.d sécurisé et fonctionnel pour le confort de bébé et de sa maman.
Anonymous A.
the 16/11/2016

5/5
Très apprécié comme cadeau de naissance
Anonymous A.
the 10/11/2016

4/5
Bien
Anonymous A.
the 18/10/2016

5/5
Produit pratique
Anonymous A.
the 18/10/2016

5/5
Produit acheté pour le Papa qui n'est pas en confiance avec l'écharpe. Il faut s'habituer aux réglages des sangles. Cela vient assez rapidement. Produit testé avec notre grande de 2 ans qui a apprécié.
Anonymous A.
the 04/09/2016

4/5
En attente du teste en grandeur nature ! Mais pour l'instant je trouve ce produit très bien pensé !
Anonymous A.
the 10/08/2016

4/5
Très bon produit, il faut prendre le coup de main et après nickel.
Anonymous A.
the 09/08/2016

5/5
Livraison rapide et conforme
Anonymous A.
the 05/05/2016

4/5
c'est un cadeau pour ma fille, le bébé n'est pas encore né
Anonymous A.
the 02/04/2016

5/5
Très bien
Anonymous A.
the 29/12/2015

5/5
Pratique et bébé bien installé dedans
Anonymous A.
the 25/11/2015

5/5
Très bon produit respecte la position de bébé ce week end c est ballade à 3 et cela m évite de sortir la poussette top
Anonymous A.
the 10/09/2015

5/5
très bien
Anonymous A.
the 04/09/2015

5/5
Magique! Facile d'utilisation avec une notice claire!
Anonymous A.
the 11/08/2015

4/5
Je me pose juste une question: dans la notice il est dit que l'on peut accrocher le miroir à la pression. Hors ce n'est pas possible.
More reviews...