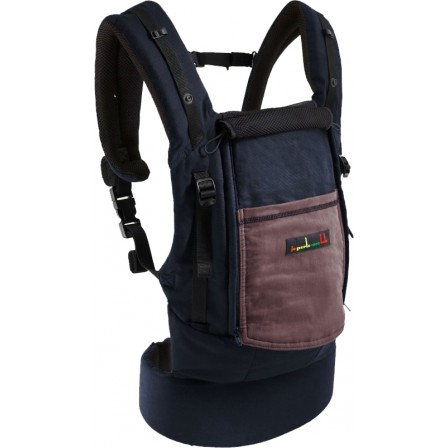 View larger
JPMBB PhysioCarrier Cotton Blue pocket Glazed brown
Je Porte Mon Bébé
CO111121
Carrying your child in the baby carrier ergonomic Physiocarrier of JPMBB of his birth (3.2 kg) up until its about 4 years old (20 kg).
The preformed of JePorteMonBébé offers you comfort and optimal support. Bring it with you everywhere.
3 positions carry :
belly
back
hip.
Model : JPMBB Physiocarrier Blue Cotton pocket Maroon Glossy.
By buying this product you can collect up to 6 loyalty points. Your cart will total 6 points that can be converted into a voucher of 2,70 €.
Your order delivered within 2 to 4 days
The design of the PhysioCarrier JPMBB Blue Cotton pocket Maroon Glossy
Two colors make up your baby carrier ergonomic : blue and brown glazed.
The carrier is mainly dark blue. The bag is of shiny brown spring perfectly. This combination of colors gives a very aesthetic to your preformed. It is ideal for a little boy or a little girl. JPMBB has the same design of the scarf " the Original ", and uses a duo of colors usual.
The strengths of the PhysioCarrier for infants and children
An opening of the apron
The built-in mesh in the pghysiocarrier offers vents in the back of your baby. In the case of heat, you can open the pocket and expose the mesh.
The children enjoy being able to be broken down. In the case of cold, the deck closes and protects your baby against the wind.
The head mesh of the PhysioCarrier
The hood mesh clears the airways of your child. It supports his head and allows the air to circulate.
Of the side straps
These straps are located on each side of the deck closest to the physiocarrier the morphology of your baby. They adjust both the height and the width of the deck. The PhysioCarrier thus offers optimum comfort to your child.
The benefits of PhysioCarrier JPMBB for a new-born
The booster of JPMBB (sold separately)
The booster acts as a liner for a newborn. It provides a physiological position of your baby's legs. The knees of your infant must be raised to the level of his navel.
The shim header of the PhysioCarrier
It supports the head and neck of the baby. The shim header provides support soft and padded. It creeps into a thread and fastens with buttons-pressures located on the shoulder straps.
The advantages of the preformed JPMBB for toddlers
The booster seat of I Door My Baby
Wear height your child offers him a wider field of view. Children are often very curious and like to look around them.
The strong points of the baby carrier physiological JPMBB for parents
A booster secure
The booster seat ensures a portage on the height secure. It goes up, the center of gravity and gives a feeling of wearing a backpack.
Easy settings
The settings of the shoulder straps and waistband adjust perfectly the PhysioCarrier to your morphology. The belt adjusts with one hand. Be sure to set the pre-formed for maximum comfort during porting, and a good distribution of the weight of the child.
The elastic storage
At the end of each straps, an elastic band can be used to store the surplus. You just wrap the strap and tie it with an elastic band. This is an ideal option for the washing machine or to avoid having your straps hang everywhere.
The padding in the shoulder straps and the belt
JPMBB ensures your comfort. The shoulder straps and the waistband are generously garnished.
A mirror
It is an accessory very practical and pleasant. Thanks to the mirror always supervise your child, even when the port dorsal.
The portage in three positions
Carry your child in three different positions :
- the portage on the belly,
- the port on the side,
- the port on the back.
A summary of the PhysioCarrier image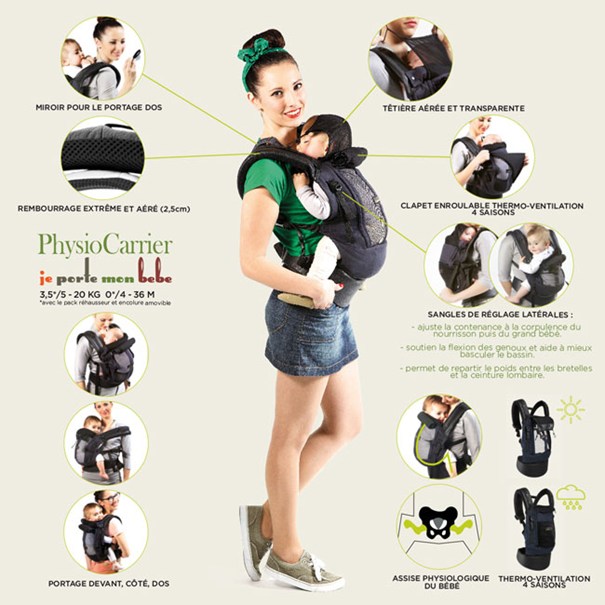 Data sheet
Kind of Baby Carriers
Full Buckle
Made in
Turkey
Recommended baby age
4 - 48 months
Minimum age
birth
Baby's weight
5 à 20 kg (dès 3,5 kg avec le coussin)
Carrying positions
Front, Back & Hip
Shoulder straps measurement
46 - 141 cm
Waistbelt measures
63 - 131 cm
Hauteur du tablier
42 cm
Largeur d'assise
43 cm
Main advantage
Good value for money
Warranty
2 years
Product Reviews
Number of Reviews :

21

Average Grade : 4.5 /5
Lorenza T.
the 10/08/2018

5/5
Très bon produit, confortable et pratique. Bébé y est très bien dedans et le portage est agréable pour les parents. Petit plus par rapport à d'autres portes bébé l'ouverture qui permet de rester au frais même quand il fait chaud. On conseille !
Noelle C.
the 03/07/2018

4/5
Produit de grande qualité. Je suis ravie de mon porte-bébé. Seul bémol, la petite glace est arrivée cassée donc inutilisable, je pense qu'elle doit être fragile car bien emballée malgré tout !
Ophelie L.
the 18/07/2017

4/5
Joli
Tahira S.
the 06/06/2017

5/5
Porte bébé facile à utiliser, il suffit juste d'avoir le coup de main. Les explications du livret concernant les réglages à effectuer ainsi que la maniere d'installer bb sont assez claires. Le porte bb à l'air solide et de bonne qualité. Il permettra à mon mari de porter bb3, lui qui n'est pas du tout a l'aise avec l'écharpe de portage que jai toujours utilisé pour les 2 premiers. Je ne regrette pas mon choix.
Michèle V.
the 28/02/2017

5/5
très bien
CHIU-JUNG C.
the 07/02/2017

5/5
Excellent produit!
Antonine G.
the 29/01/2017

4/5
premier essai concluant avec un bébé 3 mois 6;5 kgJe n'avais pas noté que le kit "tout petit" était vendu séparément, il m'a fallu refaire une commande. une réserve sur la solidité des fermetures éclaires qui permettent de dégager le dos : à voir à l'usage.
Julie L.
the 06/12/2016

4/5
Produit conforme à mes attentes reste plus qu'à le tester quand bébé sera là
Anonymous A.
the 23/10/2016

5/5
Super
Anonymous A.
the 03/09/2016

4/5
Pour ma part j'ai mal en dessous des bras avec les bretelles (c'est au niveau de la sangle et pas au niveau de la bretelles) donc faut avoir minimum un t-shirt à manches courtes pas de débardeur enfin pour moi. Aussi non j'adore mon physiocarrier
Anonymous A.
the 28/07/2016

5/5
Comme je m'y attendais
Anonymous A.
the 15/07/2016

4/5
Je donne la note de 4 car je n'ai pas encore vraiment pu le tester mais mon bébé d'1mois et demi à l'air d'apprécier pour le peu que nous l'avons essayé
Anonymous A.
the 19/04/2016

4/5
En attente du kit pour plus petit bébé que nous n'avions vu être vendu pour pouvoir le tester réellement. Mais les premiers essai (sans bébé du coup) sont agréables et le produit semble qualitatif et bien pensé.
Anonymous A.
the 14/04/2016

5/5
Je n'ai pas encore eu le temps de l'utiliser pendant de longues balades, mais quand je porte ma fille de 7 mois à la maison, elle s'endort très vite :)). Matiere et conception du produit très agréable, solide et pratique.
Anonymous A.
the 10/03/2016

4/5
xxxx
Anonymous A.
the 23/02/2016

5/5
Adeptes des écharpes de portage non tissées depuis la naissance de bébé, nous avons été séduits par ce porte bébé. Les réglages sont intuitifs, l'ensemble semble confortable pour bébé et de bonne qualité. Testé après randonnée de 12 km, pas de douleurs dans le dos. Je recommande!
Anonymous A.
the 05/02/2016

5/5
Conforme à mes attentes : position physio, confort, poids et style. Reste encore un peu de pratique pour être au point sur les réglages.
Anonymous A.
the 05/02/2016

4/5
Confortable, pratique, évolutif. Bien pensé ! Manquent quelques accessoires (une poche qui ferme, de quoi clipser le sac à main) et un petit effort sur l'esthétique.
Anonymous A.
the 13/01/2016

4/5
Produit de belle qualité. Toutefois, malgré le kit réhausseur, pas facile de trouver les bons réglages pour libérer les voies respiratoires d'un bébé de 3 mois lorsqu'on porte soi-même un manteau d'hiver . Ca mérite un peu d'entraînement et des vêtements très souples pour le porteur.
Anonymous A.
the 05/10/2015

4/5
Pas, encore testé car mon bébé n'est pas encore né.
Anonymous A.
the 02/07/2015

5/5
porte-bébé très joli et pratique, je préfère cette version coton à la version cuir (testée récemment)
More reviews...