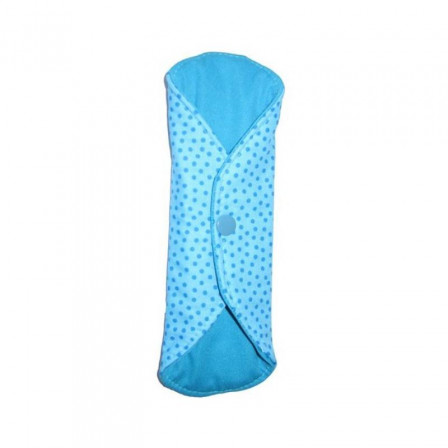 View larger
Panty liner Machine Toudoo Natura
Toudoo Natura
Discreet and refined, protects slip Toudoo Natura is also very effective :
In the Face of absorbent 100% organic cotton (except model Hemp)
Outer PUL (polyurethane laminate), waterproof and resistant.
Made In France
Dimensions (closed) 16.5 cm x 6 cm
Sold to the unit
Toudoo Natura offers a variety of patterns and colours to choose from in the drop-down menu : Liberty, Romantic, Satin Yellow, Satin Sky, Hemp and Fleece organic cotton.
No reward points for this product.
Your order delivered within 2 to 4 days
Your panty liner Machine Toudoo Natura
It is the smallest (16 cm X 6 cm) and the higher end of the range Toudoo Natura. It will accompany you everywhere in any discretion.
Toodou Natura is recognized for the quality of its towels are washable, finishes are impeccable, and they are entirely manufactured in France. You can trust them and wash them many times before they wear out.
5 models of towels to choose from (sold to the unit)
Liberty (flower motif) : Indoor: 100% organic cotton /outside PUL

Satin sky : Indoor: 100% organic cotton /outside PUL

Romantic: Indoor: 100% organic cotton /outside PUL

Fleece organic cotton : (colour unbleached natural)

Hemp: Indoor: 55% hemp-45% organic cotton/ outside PUL.
Respect your skin and the environment
The guard slips are washable it is good for you :
No chemicals, absorbent,
not materials bad to contact your skin,
less maceration,
All these positive points make your panty liner Toudou Natura, a combine staple of well-being. You eat and drink organic, don't forget to select the devices in contact with your skin, as some may
Reusable towels, it's also good for the planet
If you use the SHL, it is that you are certainly concerned with the ecology and zero waste.
Circuit manufacturing short

: the SHL are manufactured in France

Impact

transport

low

: the shipment can be done by simple letter, postcard, or via DPD. In 2 cases the carbon is offset.
Information carbon offsetting group Laposte
Information carbon offset carrier DPD.
Why use sanitary towels washable?
The sanitary pads that are washable are a good alternative to towels and tampons. Reusable, you wash and it is gone. You save and make a gesture to the environment.
The sanitary pads that are washable are manufactured in fabrics certified Oekotex 100. Your skin is not breached. She breathes during your period. The itching disappear. The use of SHL helps prevent infections.
Composition : organic Cotton or hemp and PUL
1-face, PUL : Polyurethane laminate, waterproof and resistant
1 inner side organic cotton, or for the model hemp : 55% hemp and organic cotton 45%
Maintenance tips of your Toudoo Natura
Washing at 60°c max
Dry soft cloth authorized
There is no need to iron them.
Data sheet
Made in
France
Label
Oekotex 100
Material
Bambou et PUL
Dimensions :
10cm
Conditions de lavage
60°
Tatiana M. published the 20/01/2020 following an order made on 20/01/2020
RAS, elles sont bien fine comme je le pensais mais pas trop Nickel
Anonymous A. published the 15/08/2019 following an order made on 08/05/2019
Très bien