Position "Face au Monde"
Spécial été
Tula
Tula Explores Coast Beyond - baby carriers-Scalable Micro-ventilated
Payment available in 3 or 4 times
Your Tula Explores Coast Beyond : from birth thanks to its apron-adjustable !
Your Tula Explores Coast Beyond is part of the family of baby carriers-scalable. It has an apron adjustable in both height and width (seat). This allows the sling to adjust and adapt better to your baby. The deck grows along with your child, it follows his growth. Scalable, your Tula Explores goes from baby sling to real door-toddler !
Height of deck : 28 to 43 cm
Width of seat : 13 to 38 cm
Thanks to its settings, and therefore its scalability, your baby carrier Tula Explores accompany you from the birth of your baby until its about 4 years old. It is, in fact, designed to accommodate children between the 3.2 and 20.4 kg. As the deck is adjustable, no pillow or baby seat is required.
Physiological : portage respectful of the baby in three positions, including the "face the world"
In addition to being scalable, your baby carrier Tula Explores lets you wear your child in the position of "facing the world". Often at the heart of questions, this position is possible while respecting the ergonomics of your child and their growth. It is a feat that carries Tula.
Your baby carrier Tula is physiological in three positions : the "face the world", but also on the back and on the belly in front of you. In all these positions, your baby is in the position of physiological. This is the only position that fully respects the baby, his growth and his well-being when porting. In this position, his legs form an "M" is clearly visible and his knees are slightly higher than his buttocks. Baby is so well maintained by his thighs and his buttocks and not his genital area, as in so many baby carriers and non-physiological. His back is rounded.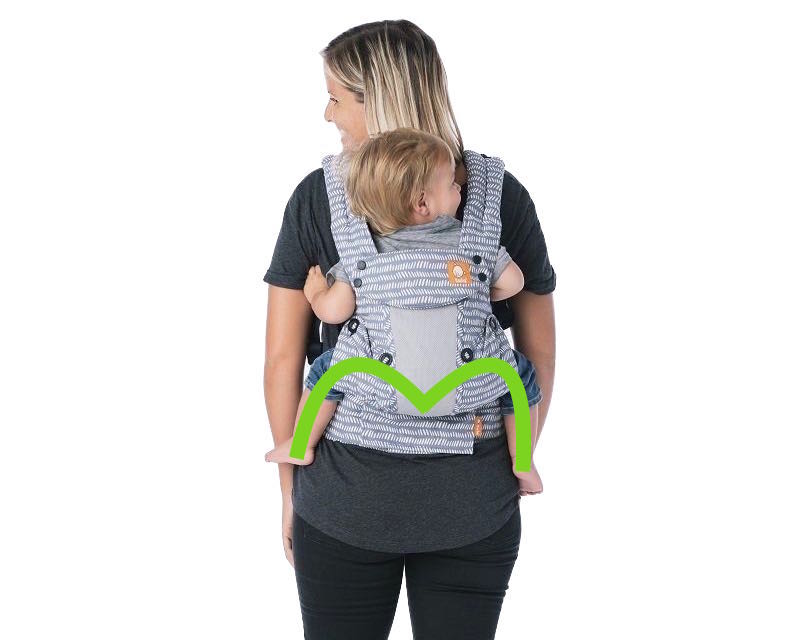 Wear comfortably even when it is hot with your carrier for a micro-ventilated area !
The third major strong point of your Tula Explores Coast Beyond us still comes out of his deck : he is micro-ventilated area ! It allows the baby body to breathe well in the summer when it is warm without letting the cold in winter : this works like the sportswear. Your child is therefore more comfortable in the heat.
To complete the comfort of baby and the carrier, the Tula has padded several parts of the baby carrier. As well the wearer takes advantage of shoulder straps and belt padded. They provide a perfect distribution of the weight of the child and maintains optimal. Meanwhile, baby relishes the padding placed under her thighs and into the socket of his neck : a portage snug !
The other strengths of your baby carrier evolutionary Tula Explores Coast Beyond
Your baby carrier evolutionary Tula Explores Coast Beyond has other strong points such as the following :
Or a color original in a limited edition.
Breastfeeding possible.
A

detachable hood

matching apron : perfect for protecting baby from the sun and preserving your privacy when breastfeeding.
A

storage pouch

team the waistband of the Tula Explores. It allows you to place a few personal effects.
100% cotton lightweight and breathable.
Machine washable at 30°. Not tumble dry.
Characteristics
Recommended baby age

- 0 - 4 years

Carrying positions

- Ventrale, dos & Face au monde

Kind of Baby Carriers

- Full Buckle

Baby's weight

- 3,2 à 20,4 kg

Made in

- India

Shoulder straps measurement

- 54 à 130 cm

Waistbelt measures

- 70 à 135 cm

Panel Height

- 32 - 42 cm

Seat width

- 20 à 35 cm

Warranty

- 2 years

Material

- 100 % Cotton

Taille du porteur

- XS à XXL
Be the first to ask a question about this product!