Boba
Boba X Vixen - carrier Scalable Limited Series
Modalités de paiement en 3 ou 4 fois sans frais
Presentation video of your baby carrier evolutionary
Zoom in on your colour Vixen
Your Boba X Vixen : a baby carrier very physiological
Installed all against you in your Boba X, your baby has the best possible position for the proper development of his pelvis and his back. This prefabricated physiologic ensures a proper posture of the hips and spine of your child, from birth and without insert, with settings exclusive. The little touches added by Boba Carrier makes babywearing physiological as enjoyable for you as for your child.
Photo : in physiological position, the legs form an "M". Here in the Boba X Grey.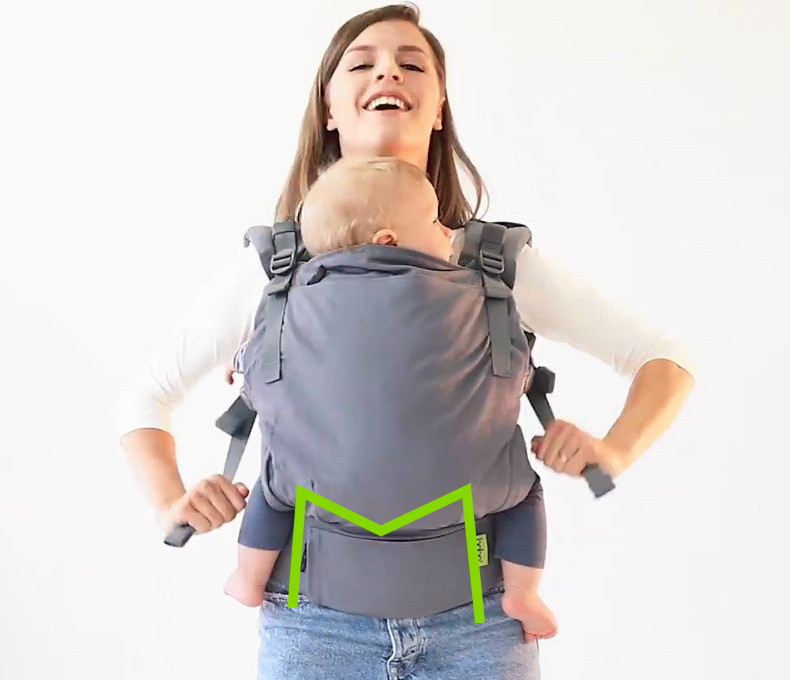 The Boba X, one of the baby carriers and the most comfortable
For the carrier, Boba Carrier is designed with a wide waistband ventral collar and adjustable, which offers a good support. The shoulder straps are also padded, adjustable and can be crossed in the back. With these settings, the Boba X adapts to all morphologies. Wear long your child in the baby carrier has never been so easy !
The Boba X is made of a flexible fabric, which adapts to the shape of your toddler. Wrapped as in a cocoon, your little one can fall asleep easily. The seat of this baby carrier is also enhanced under his thighs for even more comfort. The adjustments of the seat allow new-born babies, big babies have a suitable position and pleasant.
The small addition of Boba
This american brand of baby carrier physiological is familiar with the carrier parents. Everything is thought to facilitate the walks with a baby :
a storage pocket placed on the waist belt for storing small objects
a

fastener for handbag

on one of the shoulder straps
a loop of lactation to better facilitate breastfeeding
The Boba X follows you from birth to 4 years
The Boba X Vixen is one of the best baby carriers. Very scalable, it will accompany you from the first moments of your baby's life (from 3.5 kg), and without insert. After that, you can very easily adjust the seat and the apron to carry your child when he grows up :
the height of the deck is bigger and can go from 30 to 40 cm
the width of the seat adjusts from 20 to 53 cm with extensions included
The extensions of the seat click on the seat belt, and a Zipper allows you to attach to the side of the apron.
Maintenance tips of the preformed X Vixen
In order to keep as long as possible your baby carrier 100 % cotton in good condition, follow our recommendations :
choose a local wipe of the tasks in the first place
machine washable at 30° on delicate cycle
dryer and Bleach not recommended
Test & notice on your door-baby
You want to know what the users of the Boba X think ? Visit our blog ! There you will find the notice of Emeline and Nicolas, the parents of twins.
Characteristics
Recommended baby age

- 0 - 4 years

Carrying positions

- Front & Back

Kind of Baby Carriers

- Full Buckle

Baby's weight

- 3.5 to 20 kg approx.

Made in

- Asia

Waistbelt measures

- 63 - 147 cm

Panel Height

- De 30 à 40 cm

Seat width

- De 20 à 53 cm

Main advantage

- Le plus adaptatif du marché

Warranty

- 2 years

Width

- 50cm

Weight

- 750 g

Material

- 100 % Cotton
Avis des clients (10 Avis)
Tissu super joli et modèle confortable, à voir sur le long terme mais je suis déjà conquise !
Anonymous A.
- 10/03/2021
Produit très qualitatif qui semble robuste et évolutif.
Bonjour Peut on l'utiliser en position tel que le dos du bébé soit contre mon ventre? (le bébé regarde dans la même direction que moi, devant)
Bonjour, 
Le porte-bébé Boba X ne permet pas le portage face au monde. 
Les porte-bébé Ergobaby 360 et Tula Explore le permettent.
Bonne journée à vous.