Storchenwiege baby carrier
Storchenwiege Wrap Leo Black - White 4,60 m
Storchenwiege Leo black/white : the best for your child
Storchenwiege is a leader in the baby carrier and enjoys a wealth of experience and know-how that is far superior to other brands. For example, Storchenwiege has patented his technique of weaving, broken twill (bonding channel) which imparts a solidity impréssionante to scarves. Even after several years of use, your wrap Storchenwiege will be as good as new. It is for this reason that Storchenwiege guarantees all its scarves two years.
Designed and woven in Germany, the scarves Storchenwiege are 100% cotton certified Oekotex 100. This ensures a fabric that is free of substance harmful.

Grounds black diamond and white wrap Leo black/white
What are the benefits to wearing baby Storchenwiege Leo ?
- Respect the physiology of baby, it is an important detail because your baby will be better installed in a scarf twill-twill in a classic carrier. Your back is also preservé.
- Walk everywhere : hikes, markets, large-surfaces: Pass through the difficult paths of black or world does not pose a problem in wrap
- Offer a moment of tenderness with your child. There is nothing like the touch of mom or dad, your child likes to be carried in a sling, and it shows. For parents, it is also a moment of complicity important.
Examples of nodes are possible with the scarves Storchenwiege
Several dozens of nodes are possible with a scarf twill-twill. The node type will depend on your level and the size of your scarf. Here are three node easy to implement. Find detailed instructions for each node in the download tab of this page.
Kangaroo front Pouch on the hip Bag back in the back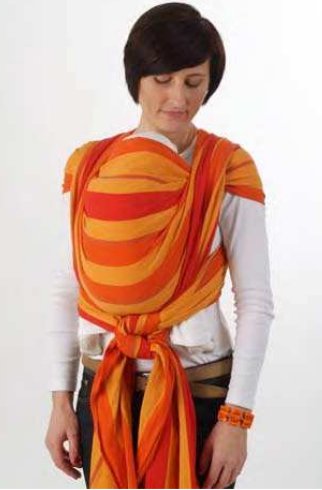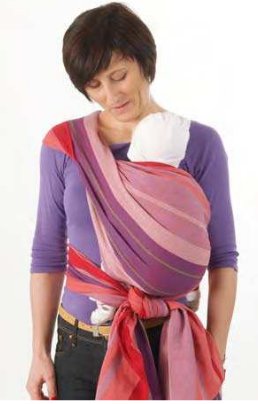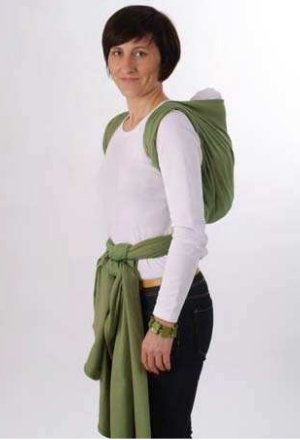 Tips for choose its size of scarf Leo Storchewiege
The scarves sold are the sizes 4,10 m and 4.60 m, because they are adapted to sizes of up to 1m70.
Below 1m55, préviligiez the scarf of 3.60 m At the top of 1m70, you can take a wrap of 5.20 m.
You can choose your wrap storchenwiege also according to the node that you want to do (see our table)
| | | | | | |
| --- | --- | --- | --- | --- | --- |
|     | 2.7 m | 3.6 m | 4.1 m | 4.6 m | 5.2 million |
| On the hip | all | all | all | all | all |
| Cradle | all | all | all | all | all |
| Backpack on the back | to avoid | all | all | all | all |
| Cross on the side | to avoid | up to size 44 | all | all | all |
| Kangaroo before | to avoid | up to size 44 | all | all | all |
| Kangaroo on the hip | to avoid | up to size 44 | all | all | all |
| Double cross before |  to avoid | to avoid | up to size 40 | up to size 44 | all templates |
| Cross wrap front | to avoid |  to avoid | up to size 40 | up to size 44 | all |
| Double hammock |  to avoid | to avoid |  to avoid | up to size 44 | all |
Council Naturioù : If you choose a scarf of 5.20 m, you will be able to make all the nodes but it will be very cumbersome for the small sizes. The scarves of large size are rather reserved for people of larger sizes or experts in nodes of portage.
If you are planning to be several carriers to use the wrap, Naturiou recommends that you choose a scarf based on the primary carrier and the mode of portage favorites.
If you have the slightest doubt or uncertainty on the size you can contact us or choose a sling one size as the scarves of portage JPMBB
Maintenance of your wrap Storchenwiege Leo black/white
To preserve as long as possible your sling Storchenwiege, we recommend that you :
- Never wash your scarf to be more than 60°C (30°C recommended).
- Don't spend your scarf in the washing machine.
- Preferably use a gentle detergent such as washing Potion.
Characteristics
Material

- 100 % Cotton

Minimum age

- birth

Made in

- Germany

Label

- Oekotex 100

Kind of Baby Carriers

- Woven wrap

Warranty

- 2 years

weight

- 202 gr/m2
Avis des clients (8 Avis)
Véronique D.
- 11/09/2020
Très bonne qualité
Be the first to ask a question about this product!